Filmgalerie 451 in cooperation with Onlinefilm presents: PARSIFAL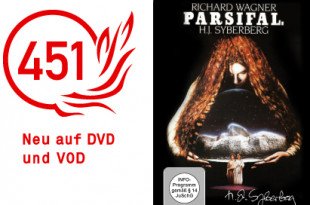 08.08.2012
30 years after its premiere at the Cannes Film Festival in 1982, Hans-Jürgen Syberberg's film adaptation of "Parsifal" is released on the Internet (download and stream) and on DVD
Syberberg's celebrated version of
Parsifal
was made on the one hundredth anniversary of the opera's first performance at Bayreuth in 1882 and is staged around the looming presence of a huge replica of Wagner's death mask. Armin Jordan's acclaimed interpretation of Wagner's incomparable music unfolds against a startlingly effective and constantly changing backdrop of images and tableaux vivants, while Syberberg's camera concentrates on the expressive faces of his actors, revealing staggering performances, especially from Edith Clever as Kundry, who many agree has given the definitive interpretation, hair-raising in its intensity.
Undoubtedly the most stunning film of an opera ever made.
(Newsweek)
Unique...original and of great strength...never dull, always daring.
(Sunday Times)
Team and Credits
Director, Screenplay, Production: Hans Jürgen Syberberg, Director of Photography: Igor Luther, Set Decorator: Werner Achmann, Editor: Jutta Brandstaedter, Music: Richard Wagner, Conductor: Armin Jordan
Actors: Armin Jordan (Amfortas - vocals by Wolfgang Schöne), Martin Sperr (Titurel - vocals by Hans Tschammer), Robert Lloyd (Gurnemanz - vocals by Robert Lloyd), Michael Kutter (Parsifal 1), Karin Krick (Parsifal 2 - vocals by Rainer Goldberg), Aage Haugland (Klingsor – vocals by Aage Haugland), Edith Clever (Kundry – vocals by Yvonne Minton)
D/F 1982, 260 min (3 parts), 2 parts as VOD or 2 DVDs: 4:3, NTSC / PAL compatible, Code 0, Stereo, unabridged German version including English subtitled version
PARSIFAL at Filmgalerie 451:
www.filmgalerie451.de/en/filme...
...and via onlinefilm.org:
onlinefilm.org/en_EN/film/5312...